Thirty youths, between the ages of 20 & 35. Youths of all color - Indian, White, Chinese, Latin American, South East Asian, Middle Eastern. Youths of all traditions - Muslim, Jew, Buddhist, Atheist, Agnostic, Christian.

We gathered together. We breathed together. We loved together.

Together.

That was how we felt as we underwent the 5 day Wake Up retreat at Deer Park monastery. By the end of 5 days, we addressed each other as brothers and sisters. It did not matter what background we came from; we were one, we were the same. It was truly touching.
Together, we would wake up early, at 5am. College students and workers alike had to adjust to the early timetable. But it was all worth it.
In complete silence, as the sun began to rise, the sunlight streaming in, we would sit in morning meditation. Aware of our breath, aware of our bodies, aware of our feelings, our emotions. Together, as a community, we sat, we transformed.
Paying respects to our ancestors, be it our parents, our forefathers, our spiritual teachers, we touched the earth. Touching our foreheads to the ground, we radiated love, we promised to transform ourselves for our sake, for their sake, for everyone's sake.

We would enjoy our meals in silence, truly appreciating our food. Enjoying each bite, tasting each morsel, we would savor in gratitude the simple vegan dishes; dishes prepared for us lovingly by the community.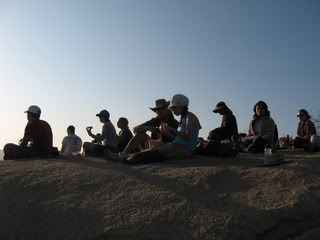 We would share our individual stories. We would listen to the gifts of insight delivered by our fellow monastic brothers and sisters. Insights that help us understand deeper the meaning of life. We learned how human the monks and nuns were, as they shared their difficulties. Hardships, that we too, have undergone, that we have shared a part of.

Everything was done mindfully, in full and complete awareness. It was a week of reflection. But it wasn't all serious. We had fun too, lots of it.

Ping pong, mountain hiking, stargazing, joyful singing, kung fu, break dancing, these were a just handful of the things we did during our spare time. And it wasn't just us youth participants taking part, the monastic brothers and sisters too, showcased their talents.
We shouted as we lost (completely) in ping pong to monastic pairs. We stared in awe as we watched bald men in robes break dancing. We smiled and laughed as we heard them playing instruments accompanied by beautiful voices. It was truly heartening to see how talented, how human these bald people in brown robes were.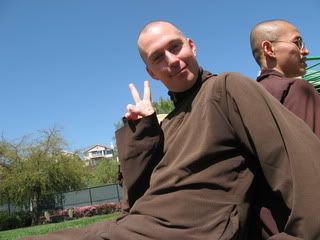 And yet, throughout all the fun, we were aware of ourselves, of what we were there for. Some of us wanted healing, many of us wanted peace, all of us wanted happiness, wanted Truth. And here was a perfect answer, Truth is not to be found in some isolated place, in a cave deep in the jungle; Truth is to be found in real life, in a community, in a society.

Happiness is to be found right here, right now. One need not become a hermit and torture oneself in isolation. Neither does one need to chase after material gains, to go after power, fame, wealth. Happiness can be found in simplicity. Happiness is when someone serves you food with a smile. Happiness is when you walk together with a loved one gazing at the stars. Happiness is when you receive a long, loving hug from your fellow brother or sister.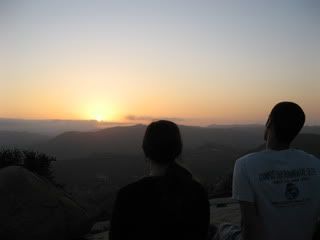 And so that was how it ended. With loving hugs. On the last day, we sat in the meditation hall, enjoying our last meal - a lunch done in the tradition of the Buddha, more than 2500 years old. After a quiet communal lunch, we shared our heartfelt gratitude through poems, songs and loving words. Finally, to our newfound brothers and sisters, we waved our hands, we said our parting words, we hugged goodbye.

And yet, although we physically parted, we knew that we would never be truly separated. The bond that we had created, that we shared, would always remain a part of us. As long as we continued the practice of Love and Understanding, we knew, that we would always be there for each other, with each other, in each other.

No coming, no going
No after, no before
I hold you close to me
I release you to be so free
Because I am in you
And you are in me
Because I am in you
And you are in me